History, Mission and Values
The Ile Perrot Yacht Club Incorporated was founded in the spring of 1966 by a nucleus of sailors who had previously operated from the Grove Hotel and Yacht Club prior to that property being sold to the City of Beaconsfield.
The Île Perrot Yacht Club is intended to be a self supporting organisation, operated by and for the members, with member participation in all activities including those work projects which the officers may decide, for financial or other reasons, are best done by the members. It is assumed that all members who join the Club will wish to abide by the spirit in which the Club was founded and in which it has been operated in the past.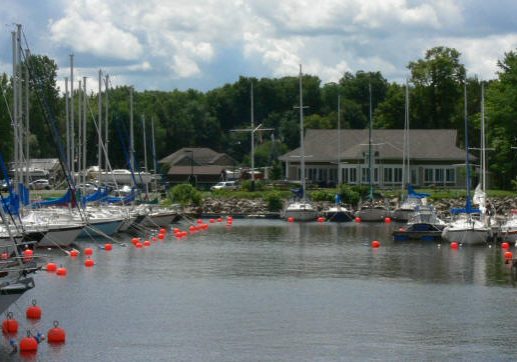 Harbour
Mooring for keelboats is at floating docks, set up to accommodate sailboats from 20 to 30 ft in length, most with piped water.
Sheerleg / hoist is available for raising masts on a self-serve basis. A pumpout is also available on a self-serve basis.
The large dinghy park and slipway is available for dry-sailing smaller boats and catamarans.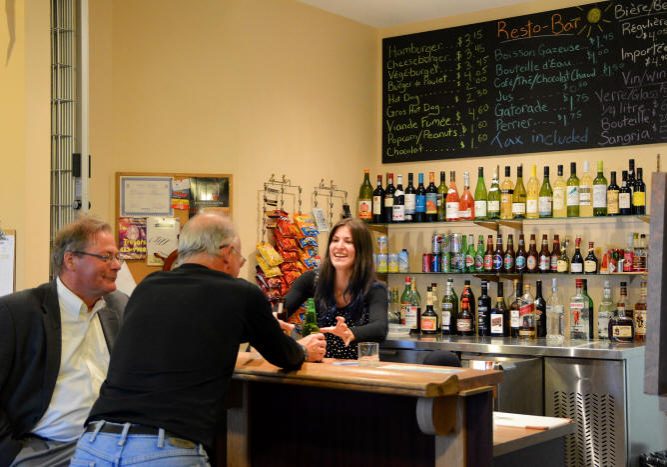 Club House
The club house was rebuilt in 2004. Facilities in the house include:
Full licensed bar and kitchen for hot and cold snacks, outside barbecues and ample area for eating and drinking while taking in the beautiful view of Lake St. Louis.
WiFi is available for Internet connection; ask at the bar for the access code.
Members' kitchen includes refrigerator, stove and sink for self - preparation of your choice of meals, which can be eaten inside or outside. Please, no alcohol other than from the bar - our license prohibits this.
Full changing facilities including showers.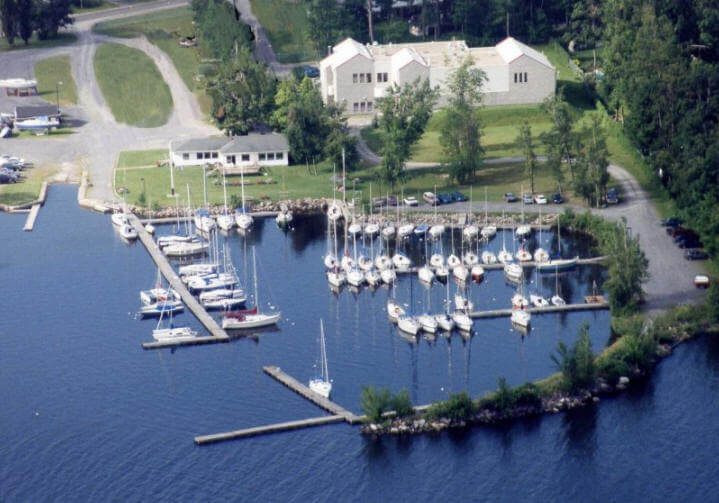 Visitor docking
The outer dock is available for visitors; tie up and make your arrangements with the bartender or harbourmaster when you get ashore.
Reciprocal Arrangements
We have a reciprocal agreement with most of the surrounding clubs that allows you free docking and the ability to charge for drinks, food etc. For details of the other clubs offering reciprocal facilities, ask at the bar or download the full list from the box at left, below menu.
If you are visiting IPYC from a reciprocal club, you will find many amenities such as bathrooms, showers, laundry equipment, BBQs as well as a complete kitchen for your needs. Our bar is open Tuesday and Thursday nights and on weekends. Also a mast-stepping sheerleg, a pump-out station and several electrical outlets for repair and recharging purposes are available at no charge.
Our policy on reciprocity covers three days at no charge each season and a fifteen dollars fee for any additional day. The Ile Perrot Yacht Club is a sailboat only club and we recommend a five feet six inches maximum draft in our harbour.
At your arrival, please tie up at the marked visitors dock and report to the bar person or to a member for assistance and sign our visitor's book. You can contact our Harbour Master for details.
We look forward to welcoming you to our club this coming season.
How to find us?
Option 1
Route 40, Trans-Canada West, exit 41, "Ste-Anne-de-Bellevue / Ile-Perrot" (20 - 30 minutes from Montreal),
Pass under bridge and turn right on route 20 (West).
Cross the bridge between Ste-Anne de Bellevue and Ile Perrot.
At the first light, turn left (Boul. Perrot) and continue straight on for 5 km.
Look for 1248 Boul. Perrot
Option 2
Route 20, Ville-Marie, West to Ste-Anne-de-Bellevue.
Cross the bridge between Ste-Anne de Bellevue and Ile Perrot.
At the first light, turn left (Boul. Perrot) and continue straight on for 5 km.
Look for 1248 Boul. Perrot
Drive carefully and watch for frequent radar checks in the 70km/h zone at bridge.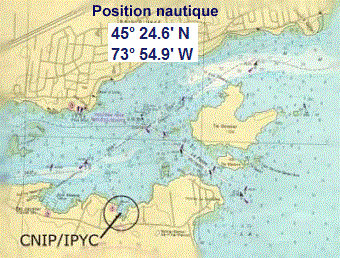 I want to become a membre
Fill out our application form so that we can evaluate your application. A member of our staff will contact you as soon as possible!
To contact someone from the Executive Committee, simply fill in our contact form.
Commodore : Robert F. Dods
Vice-Commodore : Alain Labrosse
Rear-Commodore : Marian Milewski
Secretary : Marc Deschênes
Treasurer : Jean-François Arseneault
Harbour Master : Robert Legault
Membership Chairman : Rudy Huber
Clubhouse Chairman : Yves Gaudreault
Grounds Chairman : Michel Deschênes
Social Activities Chairman : Vacant
Members of the Advisory Board are chosen from the members of the Club.
John Aird
David Pelletier
Gaétan Duplessis
Vacant
The following members are responsible for the Web site and its content.
Jean-François Arseneault
Pablo Rusjan
The club BYLAWS inform members of what the club expects in the way of conduct.
Their purpose is to ensure that the club is safe, clean and a place we all should be proud of. Please read these rules and use them for everyone's best enjoyment of the club.
We welcome all of your comments and suggestions, they will be passed on to the appropriate committee member.
You can download below the Club's burgee, a document for new members to help them navigate in the surroundings of the club, as well as our book of rules in different formats.