Art de Vries and Club's Annual Celebration Day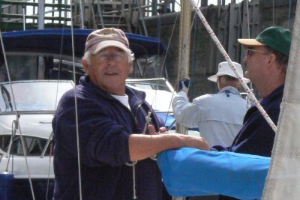 Art de Vries Memorial Cup and Club's Annual Celebration Day
Already in August, it's time to prepare for one of the most important events of the year, the Art de Vries Memorial Cup. This race is a tradition of fifty years, which also honors our missing friend and his contribution to sailing and our club.
In order to make the race more accessible for everyone and give everyone a chance to win, several starts take place from 1 pm to 5 minutes. Each participant is given a start time based on his boat speed and racing experience.
Like last year, we combine the traditional race with the annual club party! BBQ, games for children, music and bonfires are on the program!
Details:
There will a skippers' meeting on the deck of our clubhouse beginning at 11:30 AM.
Each participating sailboat/skipper will be assigned a starting time
The first boats will be starting at approximately 1:00 PM and the last boats approximately 60 minutes later.
There will be a BBQ after the race (Hamburgers, Hot-dogs et corn roast).
Fees:
IPYC members participating to the race, crew members and volunteers: $0
IPYC members not participating to the race and their guests: $5
BDYC Members, crew members and guests: $5
Deadline to register for the BBQ: Thursday August 29th, 2019 at 9h00 am.
If for any reason you do not wish to join for the race, you are encouraged to make this day memorable, helping as a volunteer with the preparation of the meal, service and cleaning at the end of the day.
We are looking forward to see you there!
Do not hesitate to reach out if you have any questions.