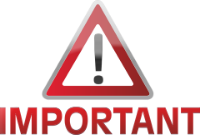 Dear members:
Spring is just around the corner and we've started to get a glimpse of the beautiful weather ahead. Unfortunately, with the announcement of the confinement measures extended until May 4th 2020, it has become obvious that the current situation will inevitably have an impact on the launch of our activities.
Therefore, the executive committee has reviewed the special measures put in place in the context of COVID-19 to make sure they comply with the directives laid out by the government of Quebec and the recommendations of the Fédération de Voile du Québec and Sail Canada.
Here are the new special measures put in place:
Access to the clubhouse and to IPYC's grounds is forbidden until further notice.
The spring general assembly is postponed to a later date.
Work party days and launch days are postponed to a later date.
Consequently, water and electricity are currently not available on the grounds and will be restored only when travel for recreational purposes is allowed.
Rest assured that we are monitoring the situation closely and as soon as the authorities allow it, we will communicate the dates for the spring general assembly, the harbour opening work party days, and boat launches.
Your executive committee
Do not hesitate to reach out if you have any other questions